acoustic music in the Pete Seeger tradition
In 1984, Bill had the opportunity to record an album at Fred Hellerman's studio in Weston, CT. Fred was one of the original Weavers, whose music in the late 1950s had introduced Bill to folk music! Bill recruited Bill Shute, an extraordinarily talented studio guitarist, and his friend Tom Conger, who played bass. With Fred as sound engineer and perceptive advisor, A Time for Getting Wiser was recorded and released as a vinyl album that got regional and national airplay on folk shows in the mid-80s.
The jackets of the old vinyl albums are big! There's lots of room for notes, which don't fit on CDs. Here, rearranged slightly, are the jacket notes as Bill wrote them then.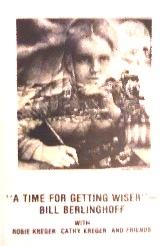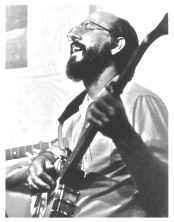 From the record jacket, a long time ago!

© 1984, 2018 Bill Berlinghoff
As a performer for some twenty years now, hovering in the twilight zone somewhere between folksinger and entertainer, I've picked up a varied miscellany of songs I like to sing. In choosing from that collection a handful to record I have been guided by variety, obscurity and nostalgia (as well as just plain enjoyment). Some are songs I've written; most of the rest are songs I wish I had written. Almost every one has its own story, some of them far too long for a record jacket. I want to tell you all of them but there just isn't time or space; a few short comments about each one will have to do. I guess if I had to defend my song choices in one sentence, it would be this: After seemingly endless hours of rehearsing, taping, analyzing, mixing and reworking these songs during the past several months, I still like every one of them.
Bill Berlinghoff, September 1984
Recorded at Honeywind Productions, Weston, CT
©® 1984 Passing Tone Music
THE MUSICIANS on this album are a mixture of friends and family (sometimes hard to tell apart). Bill Shute, an old friend, is responsible for the exciting lead guitar parts throughout. Tom Conger, a new friend, plays all but one of the bass tracks. My daughter Cathy Kreger sings and plays 12-string guitar for "A Man Moves On." Her mom, Robie Kreger, is the owner of the delightful high harmonies in "900 Miles/Lonesome Traveler," "Darcy Farrow," "Daddy, What's a Train?" and "Only A Dream." Fred Hellerman, one of my heroes from the early days of the Weavers, supplied the celeste for "A Birthday Song" and the bass in "The Streets of London." Fred was also the recording and mixing engineer, aesthetic advisor, and general supportive spirit throughout the taping process. The rest of the voice, guitar and banjo sounds are mine.
THE COVER picture is titled "Talent, Trains, Tide and Time." It is the work of Richard Tompkins, a Micmac Indian artist and good friend. He drew it long before this album was planned, but they seem to be made for each other; I am grateful to him for letting me use it.
Side B
The Streets of London (Ralph McTell) speaks for itself. There's not much to add, except to say that it's one of my all-time favorite songs.
East Tennessee (Bill Berlinghoff) In 1978 I traveled with my uncle Jim to meet some of his "clan" in Blair's Gap, Tennessee. More than a year later, I flew into that area on city-type business and called up to refresh what I thought must surely be their fading memory of a relative's relative. The warmth of their reception is chronicled in this song. It truly felt like coming home. [

To hear this, click on its title

.]
Darcy Farrow (Tom Campbell, Steve Gillette) Robie and I sang together semi-professionally for about 12 years, starting in the early '60s. This is one of the first songs we learned as a duo, was in nearly every show we did, and never seemed to go stale. I still enjoy working with Robie's high harmonies in it.
Daddy, What's A Train?

(Bruce Phillips) In this song, Utah Phillips captures the passing of an era. Passenger railroading seems to be going the way of the corner grocery and the family farm. Maybe someday our kids will rediscover the wisdom and charm of this form of mass transit.

Only A Dream

(Bill Berlinghoff) A bit more than half a century ago, Connecticut was a rural place where New Yorkers found refuge from their various urban ills. Now the Connecticut folks join the New Yorkers in a trek farther north to escape their own fouled nests. Pretty soon there won't be anyplace to go. This song emerged from those thoughts one cloudy spring day. It's written in the "future imperfect," looking back on our decaying present from our children's future.

[

To hear this, click on its title

.]
Last Call

(Matt

Holsen) This is a bar singer's song, and Matt writes from experience. He captures the unsettled exhaustion many of us feel as we prowl about the house or walk the streets after a performing night. His musical setting balances between swing and blues, echoing the love-hate relationship between us compulsive performers and our casual audiences. As far as I know, this is the first recording of the song, and I thank Matt for permitting me to use it.
A Man Moves On (Bill Berlinghoff, Cathy Kreger) I wrote these lyrics to com-memorate the passing of my cousin Stan Hayward, a genial giant of a man. Its musical setting by my daughter Cathy celebrates the joy of having known him. It's dedicated to Stan and all the other dads and grampas who have made some corner of the world just a little brighter. [

To hear this, click on its title

.]
Side A
It's About Time

(Bob Zentz) It's only fitting to begin with this. I heard Bob at the Hartford Family Folk Festival in 1983, at a time when I was feeling pretty low about my own music. Bob's songs picked me up, set me straight, and confirmed my decision to make this album after 15 years or so of procrastination. It's about time.

Isle Au Haut Lullaby

(Gordon Bok) Much of Gordon's music captures the varied moods of the Maine coast, a place of enduring fondness for me. I chose this song for its peace.

The Anti-Sing-Along Song (Bob Payton, Denise Dreher) Bob is a friend my wife and I visited in Minneapolis. He was kind enough to share with us this song. The self-conscious audience smiles I see whenever I sing it attest to Bob and Denise's success in mirroring a pedagogical frustration far too widespread for comfort.
A Birthday Song

(Bill Berlinghoff) I wrote this for a friend who was not pleased at the prospect of turning 30. "Happy Birthday" doesn't say enough, and its various spinoffs, ranging from the absurd to the insulting, often say too much.

900 Miles / Lonesome Traveler (Woody Guthrie / Lee Hays) This
is a two-song medley Robie and I learned in our early performing days, back in the 1960s, from the singing of The Weavers. They seem to fit together naturally in sound, story, and mood.
Can There Be A Dawn?

(Phoebe Solomon, Bill Berlinghoff)

Late one evening in 1976, the downstairs neighbor brought out a lyric she hadn't found a tune for. My Scotch-powered guitar supplied a country-style setting that seemed to fit, even in the next morning's sober light.
Notes:
"Last Call" © 1979 Matt Holsen Music, ASCAP
"The Anti-Sing-Along Song" © 1983 Bob Payton & Denise Dreher
8. The Hand of Someone Wiser (Bill Berlinghoff) This song is very special to me. Its first version was written for the christening of a daughter of friends in Northeast Harbor, Maine. Since then, I have written forms of it for a wedding, two memorial services, and another christening—all for people close to me. These first two verses were written five years before the third one, which arrived in its own time. Now it's done. [To hear this, click on its title.]
7. Hand Me Down My Walking Cane (public domain) Ever since I can remember, when my folks and I went to visit my uncle Jim Webb, he would take out his guitar and we'd spend the better part of an evening singing old songs. He had a special way with those songs; they would sparkle and shine a bit as we sang. This was one of my favorites. [To hear this, click on its title.]